Looking to buy a new monitor? Not sure whether to spend a fortune or save your pennies?
A good-quality monitor is one of the best upgrades money can buy – make the right choice and you can push your PC to new heights. Whether you want a pixel-packed screen for effortless multitasking, a display worthy of professional photo and design work or a 4K entertainment setup, there's a perfect monitor out there just waiting for you.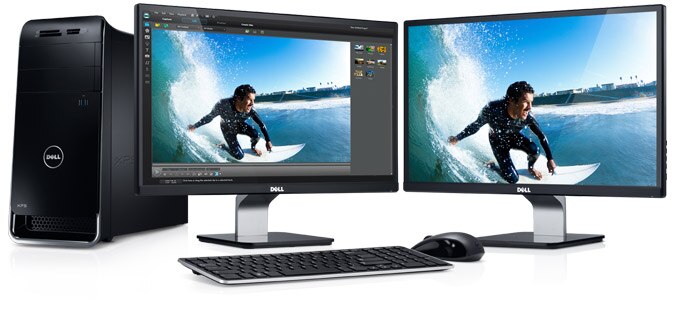 > Full HD/HD Display
> Brightness: 250 nits
> 21.5 inch LED Backlit LCD Display
> 1000:1 Contrast Ratio
> IPS Panel Type
> 1920 x 1080 pixel Resolution
Exhilarating Design :
Creative projects, movies and games
appear expansive on this 21.5″ screen with an almost-invisible bezel. It has an ultra-wide viewing angle.
Picture Perfect :
Known for its stunning clarity, the Dell TFT has razor-sharp detail in games, movies and photos with the colour-boosting Image Enhance feature. Vivid clarity shines with a mega dynamic contrast ratio of 8 million: 1 (typical) and an 82% colour gamut.
Work With Ease : Simply set your preferred viewing angle with extensive tilt adjustability. Tilt the panel up to 4° forward or 21° backward. You can manage to stay versatile, just easily connect S2240L to your laptop or desktop with VGA connectivity. The HDMI port allows you to explore thrilling HD (high-definition) entertainment options.
Eco-conscious Design and Solid Support :
With this you can also be environmentally responsible. In addition to being ENERGY STAR- qualified and EPEAT Silver-registered, the S2240L monitor features arsenic-free glass and a mercury-free LED panel. It allows you to save resources, reduce power consumption by dimming the monitor or by putting it into sleep mode by enabling PowerNap.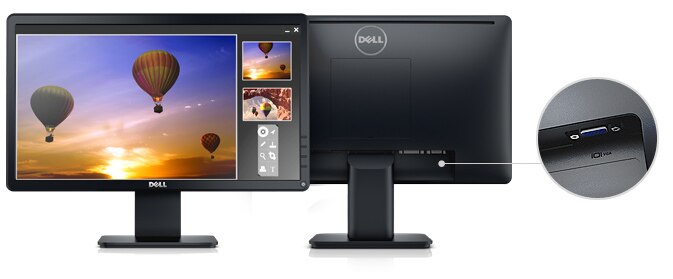 > 18.51 inch LCD Display with LED Backlit
> 600:1 Contrast Ratio
> Brightness: 200 nits
> 1366 x 768 Pixels Resolution
> HD Display
> TN Panel Type
Brilliant Clarity :
Catch every little detail in HD brilliance. The Monitor offers sharp, clear images that help make any project easy to complete.
HD 1366 x 768 resolution at 60Hz (max.)
LED backlighting,
83% color gamut1 (typical).
Comfortable and Convenient :
No squinting or craning your neck with the Dell 19 Monitor. It's built for comfort.
Adjustable to your preferred angle with smooth tilt functionality,
Easy-reach front panel controls,
VESA compatible for various mounting options.
Energy-Efficient Design :
With 12W normal-operation power consumption (typical) and less than 0.5W in active-off mode, the Monitor can help keep energy costs down, particularly in large deployments. Manage power consumption wisely with PowerNap, which you can enable through the Dell Display Manager to either dim the monitor to the minimum brightness level or put it into sleep mode when it is not in use.
> 18.5 inch Monitor
> 5000000:1 Contrast Ratio (DFC)
> Brightness: 200 nits
> 1366 x 768 Pixels Resolution
Advance your TV viewing pleasure with the stylish LG 18.5 inch LED Monitor E1942C. The stylish LED monitor ensures bright and clear LED picture quality for you to enjoy your favourite movies in the best possible way. The vivid LED backlighting displaydelivers crystal-clear images, true black and the most brilliant, life-like colours on a sleek design.
The LED monitor features Mega Contrast Ratio technology, which delivers an outstanding contrast ratio that enhances the brightness and clarity of the pictures you see on the screen. The full HD resolution ensures exceptional colour precision, visual contrast and sharpness. The Super Energy Saving feature helps you save additional 30 per cent energy compared to conventional LED monitors and get your best performance.
The Cable Management design solves the problem of the messy cable wires hanging down from the monitor. The LED monitor comes with a VESA Wall Mount so that you can mount it according to the interior design scheme of your home and also save some space while you are at it.
> 700:1 Contrast Ratio
> 1366 x 768 px Res
> 18.5 inch Monitor
> Brightness: 200 nits
AOC LED E970SWNL Monitor (18.5 inch). Designed to cater to the present day entertainment needs, this stylish monitor from AOC is a must have for students, professionals and even homemakers. TheE970SWNL Monitor has a display size of 18.5 inches wide and a native resolution of 1366 X 768. Other features like hair line design, ECO mode and compatibility with Windows 8 make it the first choice among buyers in its respective category.
The E970SWNL Monitor, a LED Monitor, plays a pivotal role in saving power without compromising on the quality. It allows users to enjoy perfect colours along with a lower power consumption value. Being a LED device, it works like a solid state device, which light up to full, consistent brightness quickly thereby ensuring faster start-up time. Not to forget, it is free from mercury content, which makes it eco-friendly and suitable for recycling. To ensure that you enjoy super high contrast ratio, it delivers better dimming control of LCD backlight. In addition, it delivers state-of-the-art colour reproduction because of the consistent brightness across the screen.
The LED AOC monitor boasts of a higher Dynamic Contrast Ratio (DCR) whose value is known to be 2million:1. Such a high value of DCR delivers better video quality while watching movies, games or other graphic content. Further, this FRC 8-bit panel displays 16.7 million colours to deliver colours, which are more vibrant than what delivered by traditional 6-bit panels. The availability of the unique ECO Mode provides users with the option of choosing 5 display settings, which are text, Internet, game, movie and Sport. Using the hotkey adjustment, you can choose the desired setting. It is noteworthy that the monitor consumes about 50% less power when it is made to run in text mode in OSD.
Screen+ software is a unique type of desktop screen splitting tool that can be used to split the desktop into different panes; where each pane displays a different window. When you wish access a window, all you need to do is drag the window to a corresponding pane. Further, LED backlight panel does not contain mercury that makes it greener and environment friendly. The monitor is compatible to Windows 8 so that you can use it with the latest OS without worrying at all. It has a low power consumption of 8 Watts and users need not worry about increasing electricity bills while using the monitor.
Just like the functions and features, the AOC Monitor scores well when it comes to looks and appearance. It sports a narrow size bezel that results in an increased viewable area. Further, its ultra-slim and ultra-sleek body accentuates its beauty

.
> Panel Type :Twisted Nematic (TN) with LED backlight
> Aspect Ratio :16:9
> Contrast Ratio (Static): Up To 600:1, (Dynamic): Up To 2000000:1
> Brightness : 200 nits
> Screen Resolution : 1366 x 768 @ 60 Hz
> View Angle : Horizontal: 90 Degrees, Vertical: 65 Degrees
> Response Time : 5 ms
> Other Features ; Pixel pitch: 0.3 mm, Pixels per inch: 84.7, Color gamut: 72% of NTSC
> Connectivity : VGA video input connector
> Temperature Range : Operating Temperature: 5 Degree C to 35 Degree C (41 Degree F to 95 Degree F)
> Operating Humidity Range : 20 % through 80 % Relative Humidity (non-condensing)
> Power Supply : Internal Power Supply
> Power Consumption : 22 Watts max power consumption (20 Watts typical power consumption), 0.5 Watt energy saving mode
ADDITIONAL FEATURES :

Anti-Glare, Plug and Play capability (if supported by your computer system), On-screen display (OSD) adjustments for ease of setup and screen optimization, Security lock

.