All gamers are generally looking for the same thing – total game immersion. To achieve this, you need a great headset with excellent sound quality. Read this list to find the best headset, whether you're looking for surround sound, stereo sound, wired or wireless headsets, expensive, or low cost.
Designed with thick leatherette ear cushions, the Razer Electra Wired headset provides a comfortable experience, as you enjoy your favorite tracks. The cushions provide ample ventilation. The flexible headband and lightweight body of the headset give you a fuller music experience,
provides you superior sound isolation as the optimally placed ear cushions do not allow external noise to permeate inside. In addition to that, the Sensitivity @1kHz: 104 dB +/-3 dB ensures that you get ample bass and clear sound while gaming or listening to music. With a frequency response of 25 – 16,000 Hz, the headset has impedance equivalent to 32 ohm, which runs on 50 mW,
comes with a microphone that has a frequency response of 100 – 10,000 Hz and signal-to-noise-ratio of 58 dB. The omni-directional microphone has a sensitivity of -44 dB +/-4 dB.
Headphones
Drivers: 40 mm neodymium magnets with copper-clad aluminum voice coil
Frequency Response: 25 – 16,000 Hz
Impedance: 32
Sensitivity @1kHz: 104 dB, ± 3 dB
Input Power: 50 mW
Cable length: 1.3m rubber sheath cable
Connector: 3.5 mm gold-plated headphone jack
Inner Ear Cup Diameter: 55 mm / 2.16
Cable Length: 1.3 m / 4.27 ft
Approximate Weight: 284 g / 0.63 lbs
Microphone
Frequency response: 100 – 10,000 Hz
Signal to Noise Ratio: 58dB
Sensitivity (@1kHz): -44 dB +/-4 dB
Pick Up pattern: Omni-Directional
Requirements
Audio Usage: Devices with 3.5mm audio jack
Audio + Microphone Usage: Devices with 3.5mm audio + mic combined jack
(Compatible with Apple iPhone, HTC, BlackBerry. The Razer Electra was designed for smart phones and laptops that come default with a 4 pin TRRS audio + mic combined jack. Razer cannot guarantee performance for use with third party splitter cables.)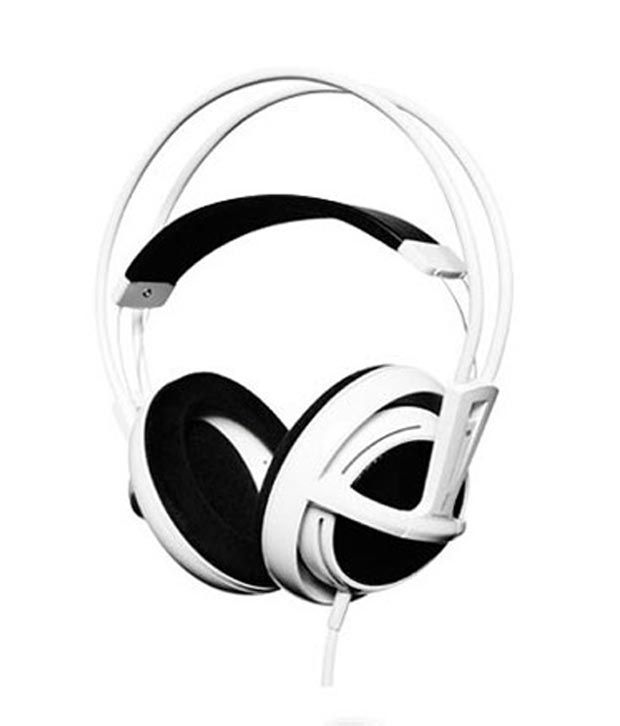 The Steelseries Siberia Full Size Headset is designed to provide the user with utmost comfort during long gaming sessions. The headsets are a combination of functionality and performance in one platform. it comes with a 50mm driver unit which gives you crystal clear sound, ranging from really high to exceptionally low, for multiple uses.
The headset's earcups have a noise reducing foam which allows you to concentrate on the sound or communication that you are listening to and blocks out all the unnecessary noise from around you.
The driver unit gives you crystal clear sound in high, mid-range and low depending on your use. It ensures quality output for multiple uses. The headphones come with a frequency response of 18-28.000Hz with an impedance of 32 ohm, and the sound level can go upto 112 dB. This guarantees high level of clarity.
The cord has an intergrated volume controller allowing you to manually handle the volume. This comes in use especially when you are using the Siberia V2 headsets with other devices and don't have direct acces to volume control.
The headsets come with a unique retractable microphone which can be hidden in its left earcup. This lets you use it whenever needed without having to show it off in public. It also comes with a 3.5 mm jack.
Headset Driver Units : 50 mm

Headset Impedance : 40 Ohm

Headset Frequency Response : 18 – 28000 Hz
MICROPHONE SOUND FEATURES
Microphone Type : Uni-directional Microphone

Microphone Impedance : 2K Ohm

Microphone Sensitivity : -38 dB/mW (Power On)

Microphone Frequency Response : 50 – 16000 Hz
SOUND FEATURES
Other Sound Features : Sound Headset: SPL-1kHz, 1V rms- 99-104 dB, Optimized Clean Soundscape, Passive Noise Reduction
Zebronics offers you a wide range of products in different categories. Iron head 7.1 multimedia headphone is a new addtion to the numerous products from zebronics. Enjoy your gaming passion with this headphone at a different level of experience.
SPECIFICATIONS
Wired or Wireless : Wired

Compatibility : OS compatibility: Windows/XP/7/8

Mic

Sensitivity : -62 dB± 3 dB, Mic dimension: 6 x 5 mm
Jack

USB powered

Cable Length : 3.0 m

Impedance : 32 Ohm ± 15%

Frequency Response : 20 to 20000 Hz
ADDITIONAL FEATURES
Features

7.1 USB Sound Card Delivers Thrilling Surround Sound With Separately Adjustable Levels, Unique 4-Pieces Of Padded Headband And Comfortable Ear Cushions Guarantees Hours Of Gaming Comfort, Reinforced Headband, Which Offers Nine Levels Of Height Adjustment For The Perfect Fit, Unique Structure With Retractable Mic, In-Line Control Pod For Sound And Mic
PHYSICAL SPECIFICATIONS
Dimensions

:

Speaker diameter: 40 mm, Sensitivity: 111dB ± 3 dB at 1 KHz
STEREO SURROUND SOUND : Keep your friends close and your enemies closer with pinpoint audio locations featured in the SHOCK headset.
COMFORTABLE DESIGN : Square-like ear cups and an adjustable headband make the SHOCK one of the most comfortable headsets on the market.
TAKE IT ON-THE-GO : A foldable design allows you to pack down the SHOCK headset for travel or storage purposes.
FOLDABLE MICROPHONE : Tuck away your microphone when you aren't barking orders at your teammates or trash-talking your enemies.
Specifications
FREQUENCY RESPONSE
20HZ ~ 20 KHZ
EXTERNAL IN-LINE CONTROLLER
YES
MIC DIRECTIVITY
BIDIRECTIONAL
MIC SENSITIVITY
-45 ± 3DB
MIC FREQUENCY
100HZ ~ 10 KHZ
– CHOOSEN BETWEEN WHITE OR BLACK
– FOLDABLE DESIGN
– INNOVATIVE NOISE CANCELLING MICROPHONE
– ENHANCED BASS PERFORMANCE
Get the best sonic experience for your gaming system with the
Razer Kraken – Analog Music & Gaming Headphones – FRML (Green)
. The headset has been field-tested by countless professional gamers and athletes to provide you unparalleled comfort on the go.
The
Razer Kraken – Analog Music & Gaming Headphones features large 40mm Neodymium Drivers at its core with a frequency response range of 20Hz to 20000Hz – providing you with crystal clear sounds in the high and mid-range while packing deep rumbling bass for powerful low-range sound. The drivers make the headphone extremely powerful and suitable for both gaming as well as listening to music.
The Razer Kraken – Analog Music & Gaming Headphones has a rugged construction with extreme durability. It is designed to withstand the daily abuse on the go – whether for commuting or while gaming. The headphones have an extremely ergonomic design with earcup diameter of 50mm and are built for prolonged use with maximum comfort.
The Razer Kraken – Analog Music & Gaming Headphones has foldable earcups making them extremely compact for maximum mobility, allowing you with extreme comfort while storing them or taking them on a trip!
The Razer Kraken – Analog Music & Gaming Headphones has a

1.3 metre cable

as well as a

2 metre extension cable

to give you maximum mobility. It features an

analog 3.5mm headphone jack

and

weighs approximately 280grams

.
Specifications
Frequency Response

20 – 20,000 Hz
Impedance

32 Ohms at 1kHz
Sensitivity (@1kHz, 1V/Pa)

110 ± 4dB at 1 kHz Max
Input Power

50 mW
Drivers

40 mm, with Neodymium Magnets
Inner Ear Cup Diameter

50 mm / 1.97 Inch
Cable Length

1.3 m / 4.27 ft plus 2m / 6.6 ft Extension Cable
Approximate Weight

280 g / 0.62 lbs
Connector

Analog 3.5 mm headphone jack